- - - Create a custom screensaver for Roland FA 06/08 workstation - - -
Here you can find a small script that allows you to create your own screensavers for the excellent Roland FA 06 and 08 workstations. Instead of the default screensaver, you can have something badass, for example this:
To quickly try out the custom screensaver, you can download this short pre-made screensaver featuring my dogs. Just put it in the correct directory (see below) of your Roland SD card and that's it.
The script was written for Linux. If you don't use Linux or don't know what Linux is, ask someone else to create the screensaver for you (not me!).
Create a working directory somewhere and copy this file to the directory (make it executable).
Make sure you have luajit and imagemagick installed. I.e. commands "luajit" and "convert" should be present on your system.
In your working directory (where you already have the "create" script), create a subdirectory called "sequence".
Inside the "sequence" directory, put the sequence of PNG images that are named img0001.png, img0002.png, img0003.png and so on (exactly like this!). There are several ways to create a sequence of images from the video file, for example using avconv in this manner:
avconv -ss 1:24:40 -i ~/videos/Conan.The.Barbarian.avi -r 10 -t 30 -vf crop=in_h*1.76 -f image2 img%4d.png
Then, inside the working directory, run the "create" script. It should convert and compress all your PNG images and create the large 0001.BIN file in the same directory.
Copy this file to your Roland SD card into the directory called "Roland/FA/SCREEN SAVER". This directory should already contain the default 0001.BIN file (about 60 MB), which is the default Roland screensaver. Back it up somewhere or rename it if you don't want to lose it because your custom screensaver replaces this file.
That's all. Put the SD card back into your FA and you've got your new screensaver.
Notes for smooth operation:
Your PNG images should have aspect ratio of 1:1.76 because when you run the "create" script, all images are resized to 480x272 pixels (which is the resolution of the FA display) - don't worry, your original PNGs are not touched.
Your screensaver will run at around 10 frames per second which is less than half rate of standard theatrical movie. Take this into account when converting the video to images.
It seems there is a limit for how large (in bytes) one image can be after compression. If your screensaver doesn't play, or ends before it should, it's probably because some of the images are too complex (lots of color gradients) and cannot be compressed enough. Make them simpler (see the next point).
The compression used by Roland is very simple and not very effective. If you want to make the screensaver file smaller, try tweaking the "convert" command (in my script) to limit the number of colors in the images (after their rescaling to 480x272).
My script is very ugly and full of nasty hacks. If you want to pay me for programming your next project, my code will be neater. :)
This script was created after analyzing the original Roland screensaver file and deducing the compression scheme. I didn't hack the synth itself and I haven't seen its software.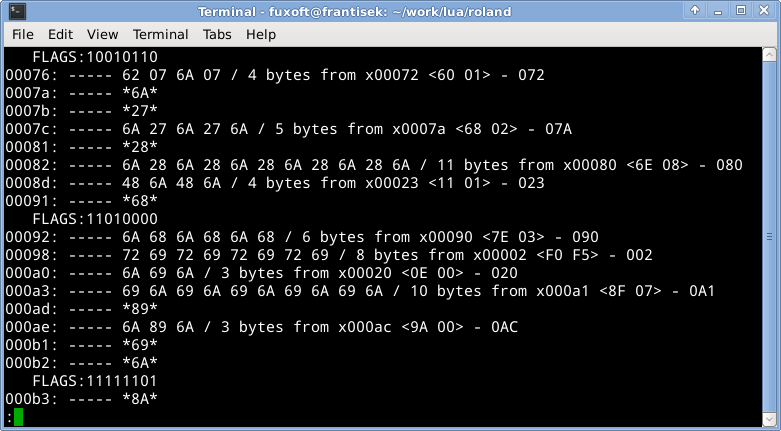 If you don't understand what you just read, then I am sorry but I will not convert your videos for you. Ask someone who knows Linux.